The following list was compiled by Worachate Boonplod.
All dates and magnitudes are approximate.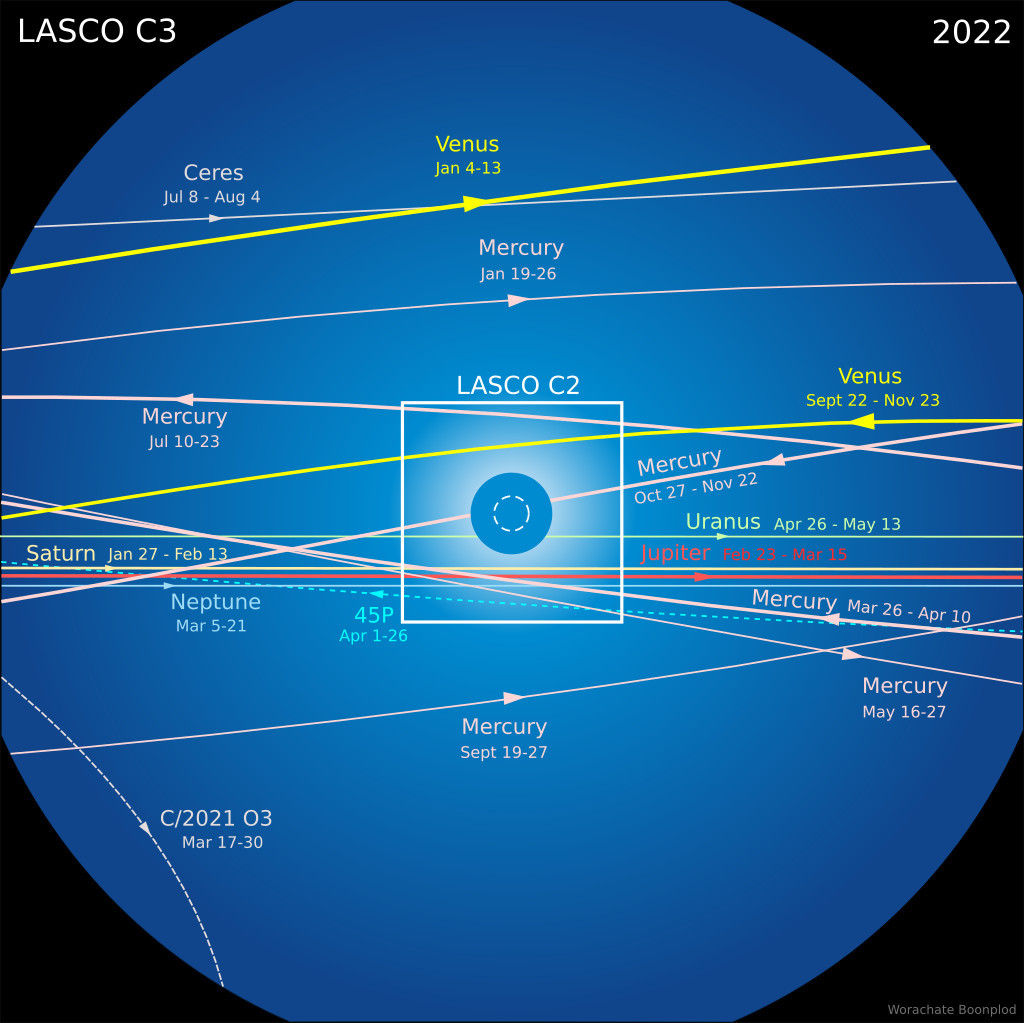 Please note the following:
* 45P will be at the far side and likely too faint to be seen but is included here just in case.
* Predicted magnitude of C/2021 O3 (PANSTARRS) looks good but it is faint in terms of absolute magnitude, so there is a chance of disintegration.
LASCO C3
| | | | |
| --- | --- | --- | --- |
| Jan04-Jan13 | Venus | mag -4 | left to right |
| Jan19-Jan26 | Mercury | mag +5 | left to right |
| Jan27-Feb13 | Saturn | mag +0.7 | left to right |
| Feb23-Mar15 | Jupiter | mag -2.0 | left to right |
| Mar05-Mar21 | Neptune | mag +8.0 | left to right |
| Mar17-Mar30 | C/2021 O3 | mag TBD | (lower-left) |
| Mar26-Apr10 | Mercury | mag -2 | right to left |
| Apr01-Apr26 | 45P | mag TBD | right to left |
| Apr26-May13 | Uranus | mag +5.9 | left to right |
| May16-May27 | Mercury | mag +5 | left to right |
| Jul08-Aug04 | (1) Ceres | mag +8 | left to right |
| Jul10-Jul23 | Mercury | mag -2 | right to left |
| Sept19-Sept27 | Mercury | mag +5 | left to right |
| Sept22-Nov23 | Venus | mag -4 | right to left |
| Oct27-Nov22 | Mercury | mag -1 | right to left |
LASCO C2
| | | | |
| --- | --- | --- | --- |
| Feb02-Feb06 | Saturn | mag +0.7 | left to right |
| Mar03-Mar07 | Jupiter | mag -2.0 | left to right |
| Mar11-Mar15 | Neptune | mag +8.0 | left to right |
| Apr01-Apr04 | Mercury | mag -2 | right to left |
| Apr13-Apr18 | 45P | mag TBD | right to left |
| May03-May07 | Uranus | mag +5.9 | left to right |
| May20-May22 | Mercury | mag +5 | left to right |
| Jul15-Jul18 | Mercury | mag -2 | right to left |
| Oct16-Oct29 | Venus | mag -4 | right to left |
| Nov06-Nov11 | Mercury | mag -1 | right to left |
Return to main transits page