The following list was compiled by Worachate Boonplod.
All dates and magnitudes are approximate.Note that the limiting magnitude for LASCO C3 is approximately 8.0 to 8.5 (depending on object/star), approximately 8.5 - 9.0 for C2, approximately 9.0 for COR-2 (though highly dependent on nature of the object), and approximately 13.5 for HI-1.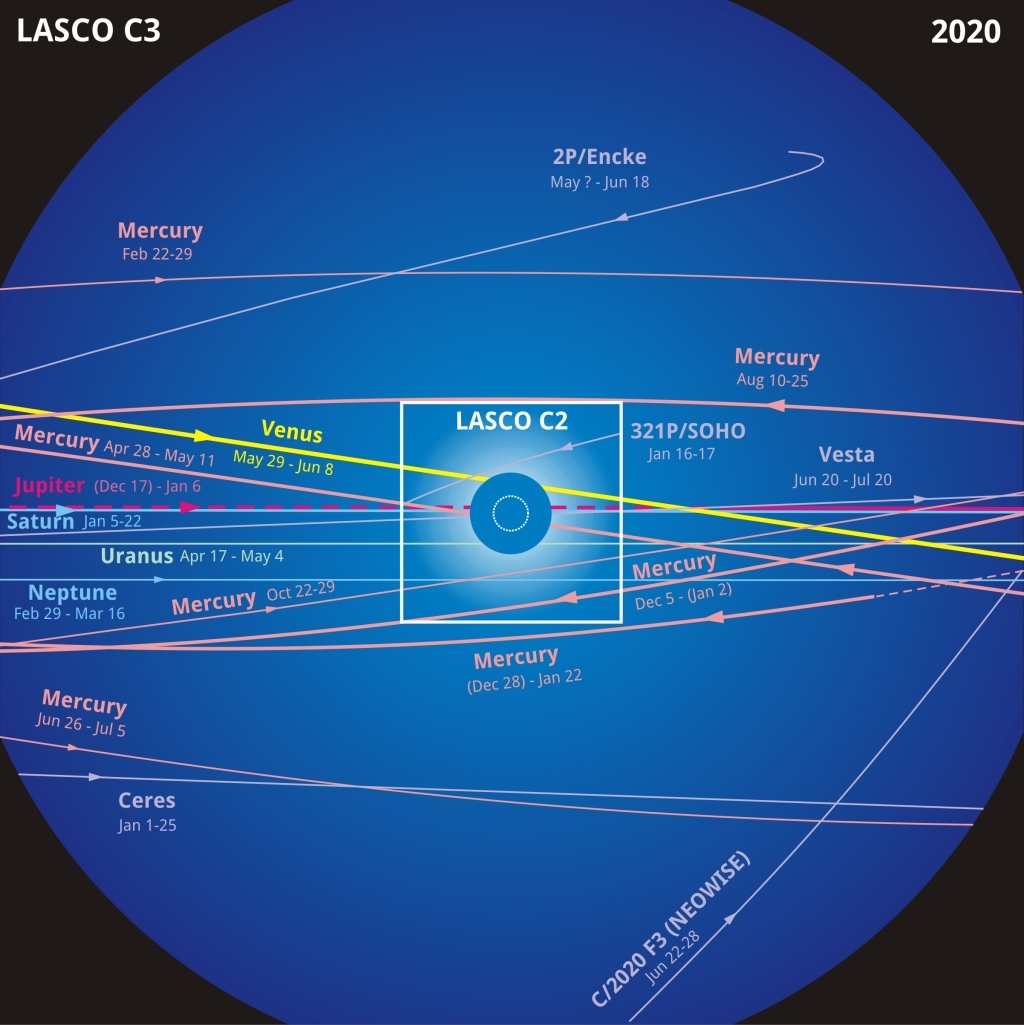 This image only shows transits across the LASCO field of view. We do not currently provide a graphical representation of the SECCHI transits. IMAGE CREDIT: Worachate Boonplod

Regarding 322P/SOHO, the comet should appear in C2 moving from left to right and probably be detectable in C3. After that, it will reenter C2 moving from right to left but its brightness will likely be lower than limiting magnitude of C2.
Also of note:there will be a Mercury transit (of the Sun) on November 11, 2019.
LASCO C3
| | | | |
| --- | --- | --- | --- |
| (Dec17)-Jan06 | Jupiter | mag -1.8 | left to right |
| (Dec28)-Jan22 | Mercury | mag -1 | right to left |
| Jan01-Jan25 | (1) Ceres | mag +8.8 | left to right |
| Jan05-Jan22 | Saturn | mag +0.5 | left to right |
| Feb22-Feb29 | Mercury | mag +5 | left to right |
| Feb29-Mar16 | Neptune | mag +8.0 | left to right |
| Apr17-May04 | Uranus | mag +5.9 | left to right |
| Apr28-May11 | Mercury | mag -2 | right to left |
| May29-Jun08 | Venus | mag -4 | left to right |
| Jun01-Jun18 | 2P/Encke | mag +6 | right to left |
| Jun20-Jul20 | (4) Vesta | mag +8.0 | left to right |
| Jun22-Jun28 | C/2020 F3 (NEOWISE) | mag +4.0 | bottom to right |
| Jun26-Jul05 | Mercury | mag +5 | left to right |
| Aug10-Aug25 | Mercury | mag -2 | right to left |
| Oct22-Oct29 | Mercury | mag +5 | left to right |
| Dec05-(Jan02) | Mercury | mag -1 | right to left |
LASCO C2
| | | | |
| --- | --- | --- | --- |
| Jan11-Jan15 | Saturn | ma +0.5 | left to right |
| Jan16-Jan17 | 321P/SOHO | mag +7 | right to left |
| Mar06-Mar10 | Neptune | mag +8.0 | left to right |
| Apr24-Apr28 | Uranus | mag +5.9 | left to right |
| May03-May06 | Mercury | mag -2 | right to left |
| Jun02-Jun04 | Venus | mag -4 | left to right |
| Jul02-Jul08 | (4) Vesta | mag +8.0 | left to right |
| Oct25-Oct26 | Mercury | mag +5 | left to right |
| Dec17-Dec22 | Mercury | mag -1 | right to left |
STEREO/SECCHI COR-2A
| | | |
| --- | --- | --- |
| Jan11-Feb03 | Mars | left to right |
| Jan12-Jan18 | 321P/SOHO | right to left to right |
| Jan31-Feb01 | Venus | left to right |
| Feb08-Feb11 | Mercury | left to right |
| Mar14-Mar23 | Jupiter | left to right |
| Mar27-Apr04 | Saturn | left to right |
| Apr08-Apr18 | Mercury | right to left |
| May18-May25 | Neptune | left to right |
| May27-May28 | Mercury | left to right |
| Jul03-Jul11 | Uranus | left to right |
| Aug01-Aug07 | Mercury | right to left |
| Nov17-Nov26 | Mercury | right to left |
| Dec02-(Jan02) | Venus | right to left |
| Dec05-Dec07 | 3200 Phaethon | right to left |
STEREO/SECCHI HI-1A
| | | |
| --- | --- | --- |
| Jan18-Jan21? | 321P/SOHO | left to right (might be too faint) |
| Feb05-Apr09 | Mars | left to right |
| Feb11-Apr07 | Mercury | left to right to left |
| Feb03-Feb16 | Venus | left to right |
| Mar24-Apr17 | Jupiter | left to right |
| Apr04-Apr26 | Saturn | left to right |
| May25-Jun06 | C/2019 Y4 | top to lower-left |
| May26-Jun14 | Neptune | left to right |
| May30-Jun12 | Mercury | left to right |
| Jul06-Jul08 | 2P/Encke | left to right (lower-left corner) |
| Jul11-Jul31 | Uranus | left to right |
| Jul11-Aug01 | Mercury | right to left |
| Sep08-Nov30 | Venus | right to left |
| Oct10-Nov17 | Mercury | left to right to left |
| Nov24-Dec04 | 3200 Phaethon | right to left |
Return to main transits page