The following list was compiled by Worachate Boonplod.
All dates and magnitudes are approximate.Note that the limiting magnitude for LASCO C3 is approximately 8.0 to 8.5 (depending on object/star), and for C2 is approximately 8.5 - 9.0.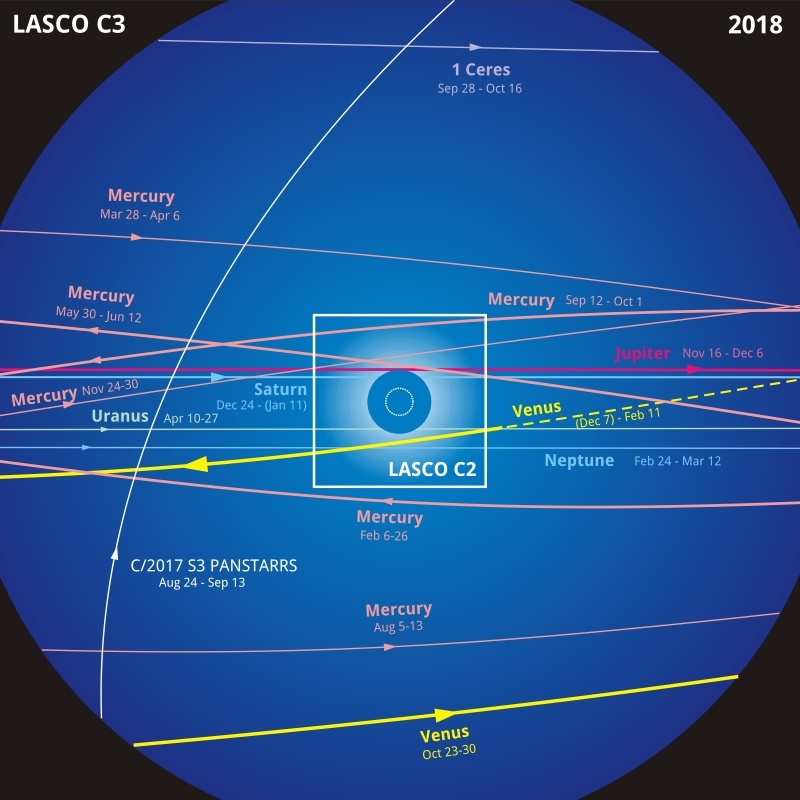 Regarding C/2017 S3 (PANSTARRS), magnitudes (brightness) of this comet are highly uncertain, ranging from around 0 to +7. We are not providing a value here until a more confident estimate is available, and also note the possibility exists that this comet will not survive perihelion.
LASCO C3
| | | | |
| --- | --- | --- | --- |
| (Dec07)-Feb11 | Venus | mag -4 | right to left |
| Feb06-Feb26 | Mercury | mag -2 | right to left |
| Feb24-Mar12 | Neptune | mag +8.0 | left to right |
| Mar28-Apr06 | Mercury | mag +5 | left to right |
| Apr10-Apr27 | Uranus | mag +5.9 | left to right |
| May30-Jun12 | Mercury | mag -2 | right to left |
| Aug05-Aug13 | Mercury | mag +5 | left to right |
| Aug24-Sep13 | C/2017 S3 | TBD | lower left to top |
| Sep12-Oct01 | Mercury | mag -2 | right to left |
| Sep28-Oct16 | 1 Ceres | mag +8.5 | left to right |
| Oct23-Oct30 | Venus | mag -4 | left to right |
| Nov16-Dec06 | Jupiter | mag -1.7 | left to right |
| Nov24-Nov30 | Mercury | mag +5 | left to right |
| Dec24-(Jan11 | Saturn | mag +0.5 | left to right |
LASCO C2
| | | | |
| --- | --- | --- | --- |
| Jan02-Jan16 | Venus | mag -4 | right to left |
| Mar02-Mar06 | Neptune | mag +8.0 | left to right |
| Apr16-Apr20 | Uranus | mag +5.9 | left to right |
| Jun04-Jun07 | Mercury | mag -2 | right to left |
| Sep19-Sep23 | Mercury | mag -2 | right to left |
| Nov24-Nov28 | Jupiter | mag -1.7 | left to right |
| Dec31-(Jan04 | Saturn | mag +0.5 | left to right |